The 'TikTok Accountant' – going out on her own and using the latest tech to deal with rapid growth!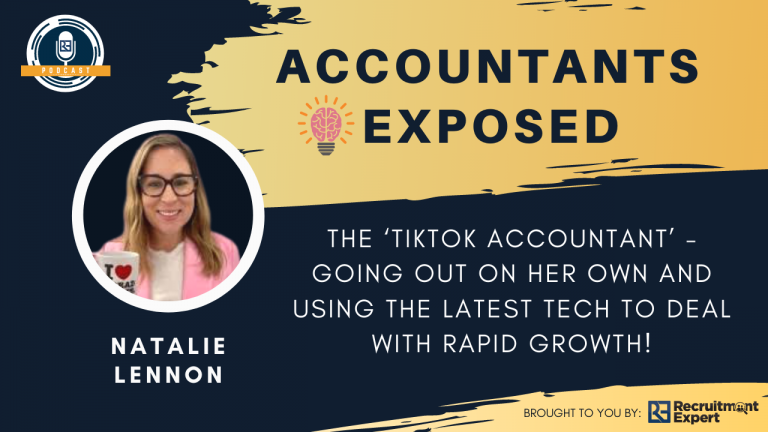 Most people nowadays use social media to promote their business in the most fun and creative ways, and our guest for today is not one to miss out on the opportunity! Meet Natalie, the accountant who gets her clients from Tiktok!
Keep listening as Natalie Lennon from Two Sides Accounting shares her ups and downs of running a fast growing business during a pandemic. Some of the thing we touch on include:
Coping with burnout like most accountants during Covid, and her techniques to deal with that

Managing financially struggling clients and why she goes above and beyond in helping them

Her accounting journey – expanding her client base even during the pandemic and the importance of being a proactive accountant

How she quickly progressed to an accounting firm manager as a university graduate to getting bored in commerce and then becoming a young equity partner in a firm

Challenges of returning to Public Practice from Commerce

Dealing with being sidelined as a junior partner in the boardroom, speaking up, and going her own way

What her goals were in starting her own firm, and how she got her first clients

The hard truth of growing your business and subsequent coaching

Taking advantage of social media in the midst of pandemic and how to be a 'modern' accountant

The obstacles in getting your ideal employee, tips in hiring and her outsourcing journey

Automating your process and friends as clients and how bookkeeping was an integral part of her firm

When to put a break on 'growing'
"I was never very good at selling before, and I thought it was me. But then I realised that it was what I was selling.. I didn't believe in what I was selling, whereas now- Two Sides is me, it's what I want to do"
Show Notes
Natalie Lennon is a seasoned accounting professional who experienced the best of both worlds – Commerce and Public. She worked in a variety of businesses be it small or multinational and is a no nonsense type of person who is focused on her goals in assisting business owners understand and achieve their aim. Her motto – " We are on a journey together, when my clients succeed, I succeed."
Quick facts:
Won Accountant of the Year 2021
Has her own podcast called Totally Bossing It"
A content creator on Tiktok and other social media platforms
RecruitmentExpert
We are one of the largest Public Practice Recruiters in Australia and New Zealand and have access to most of the clients and candidates on the market. We thrive on delivering the best quality candidates to accounting firms so that you have the right people on the bus to grow your firm.
Why You Should Work With Us:
Retained Executive Search Service with delivery on average within 4-8 weeks – or your money back

Full Money Back Guarantee

up to 12 months as per our TOB's

Split payment options to help you with your cash flow as per our TOB's; and

Discounts for graduates, retainers, admin staff and referrals to your client base
Our Services:
Succession Planning – Finding a new Partner for your firm

Growing your Firm's Capabilities and Service Offerings with New/Additional Partners

Resourcing your Existing Teams with Juniors (Cadets/Grads) and Senior Accountants/Auditors

Contractors to help you through the busy period

Remote Staff
Contact Info
You can find out more about Natalie Lennon and her firm Two Sides Accounting from their website: https://www.twosides.com.au/
Michael Edelstein: michael@recruitmentexpert.com.au
Mobile: 0421 892 145