Step by Step Process to Growing your Practice from Scratch and Offering Business Advisory Services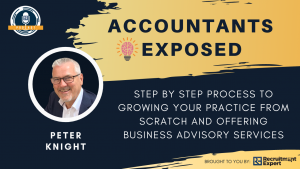 The 'Franchise Accountant' – Peter Knight, shares his journey and lays down the blueprint on how to build up your practice from square one and how to maintain outstanding client relationships in the long run and let go of the bad ones.
Join us in this worthwhile episode with the influential Peter Knight of Franchise Accounting and Tax as he shares more about:
His journey from Psychology &  Accounting to Sales & Creating a Top 30 Firm in less than 8 years

Process to generate leads on LinkedIn

Insight into the best marketing strategies that work today (on and offline) for SME's

Proven tactics to grow an accounting firm from scratch and some unique marketing hacks

Why you should niche and how it will add to your bottom line

Top 3 reasons why clients leave & the right approach to ending a client relationship

The definition of advisory, pricing models, and how to go about it step by step to become a trusted advisor
"There is a remarkable sameness about us as accountants. "
"Marketing is like a wheelbarrow – it's all in there but you still have to push it."

Profile
Peter Knight is an expert when it comes to franchise accounting and taxation. His aim is to help business owners reach the top of their game and make sure that they are on the right track to becoming an efficient and profitable industry model. His aim – to help you run your business better!
Some Quick facts:
Co-founder of

Franchise Accountants Network and founding partner of Smart Franchise, Knight Partners & Hayes Knight

Former President of

CPA Australia (NSW)
A National Judge for the prestigious Small Business Awards
Has been a lecturer at Macquarie University,

where he was a tutor as well for a number of years.

Was one of the founding Partners of Hayes Knight established in 1994 and was a National Marketing Director with PKF before establishing his own firm
Show Notes:
RecruitmentExpert
We are one of the largest Public Practice Recruiters in Australia and New Zealand and have access to most of the clients and candidates on the market. We thrive on delivering the best quality candidates to accounting firms so that you have the right people on the bus to grow your firm.
Why You Should Work With Us:
Retained Executive Search Service with delivery on average within 4-8 weeks – or your money back

Full Money Back Guarantee up to 12 months as per our TOB's

Split payment options to help you with your cash flow as per our TOB's; and

Discounts for graduates, retainers, admin staff and referrals to your client base
Our Services:
Succession Planning – Finding a new Partner for your firm

Growing your Firm's Capabilities and Service Offerings with New/Additional Partners

Resourcing your Existing Teams with Juniors (Cadets/Grads) and Senior Accountants/Auditors

Contractors to help you through the busy period

Remote Staff
Contact Info
You can find out more about Peter Knight and his firm Franchise Accounting and Tax from their website: https://www.franchiseaccountingandtax.com.au/
To find out more about RecruitmentExpert please go to www.recruitmentexpert.com.au or email