100% Growth YoY through Niching, Recruitment, Outsourcing, Scaling up and Digital Success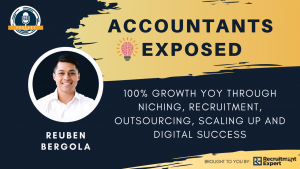 Have you ever heard of an accountant who gets his clients from the gym? Our guest today, Reuben Bergola from New Wave Business Solutions surely has unique ways in scaling up his business. In this episode, he shares his journey, vision and tips on how he managed to start young and organically grow to a multi-million dollar accounting firm in a short span of time.
Join us as Reuben shares the how to's in structuring your accounting firm, from recruitment to marketing and many more things:
How he has managed to organically grow his accounting firm from $0 to $3.6m TO & 30 staff in 5 years. 

Starting his bookkeeping business while he was still a manager at a firm with 50 staff

The reason he switched from Quickbooks to Xero

What makes his firm different from traditional accounting firms and how he effectively deals with service price increases and client attrition

Starting out alone to partnership constant reinvesting to scale up the business

How digital marketing enabled the business to really take off

What it's like working with your wife

The importance of creating a niche for your firm and the ecommerce space

What work culture really means, how to recruit people and where to look

His experience with outsourcing and the issues with work from home employees

Leadership and how to grow as a person
"Work culture is a collaborative environment that people are happy to be in"
Show Notes
Reuben Bergola is an innovative accounting partner of a successful cloud based accounting practice that's changing the way accountants impact their clients through technology and impeccable service. His goal –  to provide you with a unique service that many firms seem to leave out!
Quick facts:
30 Under 30 finalist back in 2020
His firm New Wave is a 2016 Firm of the Future Finalist – Top Firm In Australia.
Managing Director of The ECommerce Accountant

where they help Online Entrepreneurs start, grow and scale their ecommerce business through innovative accounting
RecruitmentExpert
We are one of the largest Public Practice Recruiters in Australia and New Zealand and have access to most of the clients and candidates on the market. We thrive on delivering the best quality candidates to accounting firms so that you have the right people on the bus to grow your firm.
Why You Should Work With Us:
Retained Executive Search Service with delivery on average within 4-8 weeks – or your money back

Full Money Back Guarantee

up to 12 months as per our TOB's

Split payment options to help you with your cash flow as per our TOB's; and

Discounts for graduates, retainers, admin staff and referrals to your client base
Our Services:
Succession Planning – Finding a new Partner for your firm

Growing your Firm's Capabilities and Service Offerings with New/Additional Partners

Resourcing your Existing Teams with Juniors (Cadets/Grads) and Senior Accountants/Auditors

Contractors to help you through the busy period

Remote Staff
Contact Info
You can find out more about Reuben Bergola and his firm New Wave Business Solutions from their website: https://www.new-wave.com.au/   
Michael Edelstein: michael@recruitmentexpert.com.au
Mobile: 0421 892 145