Strategy vs Execution: How to build a $100M firm within a single niche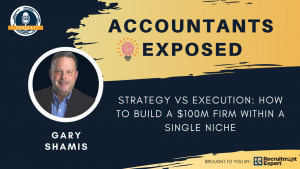 As part of our international expansion we're pleased to have our first American guest Gary Shamis from Winding River Consulting sharing all there is to know about how to effectively lead a business in the modern era where baby boomers are running firms populated by millenials. 
Gary is a global powerhouse when it comes to leadership training for accounting firms and trains partners from all over the world, especially focusing on what it means to be an effective Managing Partner. 
Listen in as he reveals the blueprint to successful leadership in an accounting firm and the how to's that will help you achieve your goals. Here are some of the topics we discussed in this episode:
Journey from medicine to accounting

Taking over his father's small fee based firm and growing it to one of the top firms in the US

Running a tax centric firm as an auditor and the struggles he had to go through

Picking your niche and his secret to expanding his firm

The three foundations of his firm that created multiple revenue streams

Difference between plain strategy and effective execution

Identifying top talent – what to look for and how to let go of employees

The baby boomer and millenials of accounting and the cultural differences of partners around the world 

What advice he thinks accounting firms and accounting partners struggle to accept and implement

The biggest difference and the challenges between being a managing partner and a regular partner and what differentiates a successful Managing Partner from a failing one

The changes that he thinks had the most impact in the accounting industry

A few practical tips on hiring virtual staff
"I had a really simple philosophy which was – every year I wanted to be better than I was a year ago and all I wanted to do was continually improve knowing it's never good enough and it could always be better" 
"You can't make a bad investment on a great person"
Show Notes
Gary Shamis  is an award winning accountant, entrepreneur and also an author. He has more than two dozen non profits under his sleeves and is a highly regarded innovator making him one of the leading figures in the industry. A natural born leader whose mind is open to changes, easily adapts and takes advantage of the situation hence being honored as the "Most Admired Peer" aside from his other achievements. His goal – to transform visions into ventures!
Quick facts:
Won

E&Y Entrepreneur of the Year

; a

Top Ten Managing Partner Elite

(Accounting Today)

Most Admired Peer

(INSIDE Public Accounting), had appearances on the

Most Influential list

(Accounting Today)

Offers a boot camp course –

"Managing Partner Bootcamp"

Co-author of

How to Manage Your Accounting Practice: Taking Your Firm from Chaos to Consensus

(2009),

Stratagem: Simple, Effective Strategic Planning for Your Business and Your Life

(2013), and

Building Blocks

(2019)

Co-Founder and Host, Winning is Everything Conference and The Advisory Board

Founder and Chairman Emeritus, LEA Global
RecruitmentExpert
We are one of the largest Public Practice Recruiters in Australia and New Zealand and have access to most of the clients and candidates on the market. We thrive on delivering the best quality candidates to accounting firms so that you have the right people on the bus to grow your firm.
Why You Should Work With Us:
Retained Executive Search Service with delivery on average within 4-8 weeks – or your money back

Full Money Back Guarantee

up to 12 months as per our TOB's

Split payment options to help you with your cash flow as per our TOB's; and

Discounts for graduates, retainers, admin staff and referrals to your client base
Our Services:
Succession Planning – Finding a new Partner for your firm

Growing your Firm's Capabilities and Service Offerings with New/Additional Partners

Resourcing your Existing Teams with Juniors (Cadets/Grads) and Senior Accountants/Auditors

Contractors to help you through the busy period

Remote Staff
Contact Info
You can find out more about Gary Shamis  and his firm Winding River Consulting from their website: https://windingriverconsulting.com/
Michael Edelstein: michael@recruitmentexpert.com.au
Mobile: 0421 892 145