Starting a Firm at a young age and Maintaining Culture through Fast Growth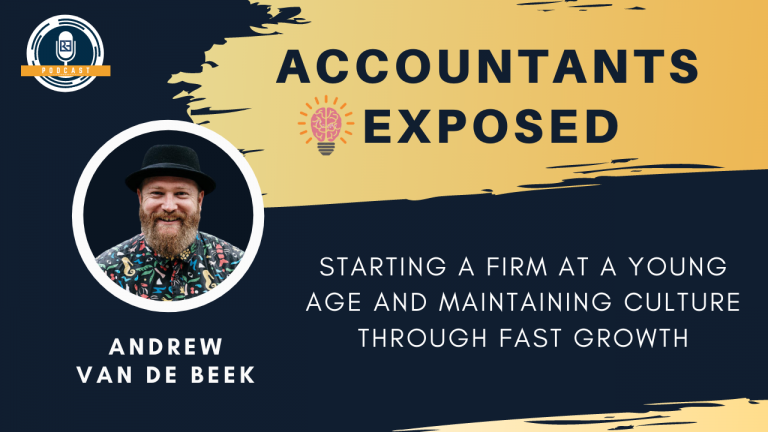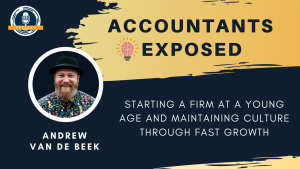 He started as a Cadet in a Big 4 firm and within 6 years, he established his own practice at an early age of 26. Andrew has a knack of attracting the right people giving him the opportunity, along with his own skills to create something unlike any other accounting firm we've heard of.
We catch up with Andrew Van De Beek, Founder and Head of Purpose of Illumin8 as he speaks about:
Importance of community and collaboration of accountants working together to improve their business

Impetus for getting into accounting and deciding to open your own firm at 26 as a junior in Big 4

Importance of relationships in this business

The biggest challenges in his career, disputes, business separations, bad decisions and the consequences of hiring people at the wrong time

The truth about bookkeeping, the reason he opened a bookkeeping firm and the pitfalls of outsourcing

Structuring equity for your staff and how to decide who gets it and when

How he keeps up personally with the growth of the firm, realizing his vision and creating an incredible workplace full of culture

The importance of branding and marketing and breaking the barrier of being a sole practitioner

Value of an advisory board for your business

His most effective marketing tool

His perspective on branding, tattoos, his downtime and his love for whiskey!
"And I remember sitting down with a lawyer and having a quick chat, and the learning out of that was. 'You're not defined by what you go through, but how you go through it."
Profile
Andrew Van De Beek is an accountant with more than 15 years of experience, a business founder and a passionate professional who shows that accountants can have a personality and be successful at the same time.. But don't be fooled – his fun loving side contradicts his seriousness in helping and supporting business owners to achieve their personal and business goals. Proven by the frequently heard phrase from his client "If only I found you guys earlier, I've been looking for someone like you my whole life." – over and over again!
His goal is to make sure that they are not just accountants, but people who are open, authentic and whom clients not only connect with, but also have a whiskey with!
Some quick facts:
Australian Accounting Thought Leader of the Year – 2018

Australian Xero Practice Advisory Council Member – 2018 to current

Winner of 2017 – Xero's Accounting Partner of the Year (VIC)
Show Notes
RecruitmentExpert
We are one of the largest Public Practice Recruiters in Australia and New Zealand and have access to most of the clients and candidates on the market. We thrive on delivering the best quality candidates to accounting firms so that you have the right people on the bus to grow your firm.
Why You Should Work With Us:
Retained Executive Search Service with delivery on average within 4-8 weeks – or your money back

Full Money Back Guarantee

up to 12 months as per our TOB's

Split payment options to help you with your cash flow as per our TOB's; and

Discounts for graduates, retainers, admin staff and referrals to your client base
Our Services:
Succession Planning – Finding a new Partner for your firm

Growing your Firm's Capabilities and Service Offerings with New/Additional Partners

Resourcing your Existing Teams with Juniors (Cadets/Grads) and Senior Accountants/Auditors

Contractors to help you through the busy period

Remote Staff
Contact Info
You can find out more about Andrew Van De Beek and his firm Illumin8 from their website: https://www.illumin8.com.au/
To find out more about RecruitmentExpert please go to www.recruitmentexpert.com.au or email