Part 2 – Secrets to success in outsourcing for Accounting Firms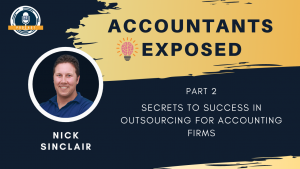 Managing a Global firm that is currently active in 5 countries with over 650 clients and growing, Nick reveals the secrets on how to provide an effective leadership while still working closely with your peers and his insights on the reality of the outsourcing industry.
We catch up with Nick Sinclair, Founder of TOA Global as he shares:
How to

build and automate culture

as a global company with genuine care and setting the standards yourself

What type of clients come to TOA and their pain points

Optimal approach to outsourcing

How to

successfully train your outsourced staff

Details of the entire outsourcing process from onboarding to building your team

Reasons why certain clients succeed and why others fail with outsourcing?

Ideal ratios of onshore to offshore staff

Typical outcomes for accounting firms

joining TOA and how TOA is different to other providers

Mindset, strategies and processes you need before embarking on the outsourcing journey

His insights from successes and failures in business
I often look back and go, "If I did things differently I wouldn't have gotten the result I got. and I wouldn't get the results I'm doing now by doing things differently"
Profile
Nick Siclair is an experienced professional advisor, speaker and a leader when it comes to revolutionising the outsourcing industry for accountants. He is a passionate pathfinder who likes making an impact on the people he works with and currently leads about 1800 offshore team members providing services for their clients globally. His goal – to help Accounting firms make a difference!
Nick has been nominated for numerous industry and leadership awards throughout the years and has been one of the leading speakers when it comes to accounting outsourcing. He has spoken to thousands of accountants from around the world and aims to  do more to help them be better in serving their clients and avoid pitfalls.
Some quick facts:
Has been featured in

Accountants Daily, SmartPayroll, Public Accountant: The Official Journal of The Institute of Public Accountants, IntuitQuickbooks, The Financial Observer and many other digital media outlets.
Popular public speaker at the Accounting Business Expo, Xero Happy Hour Events, Accountants Technology Showcase and NAB Breakfast.
A member of the Entrepreneurs Organisation
Show Notes
RecruitmentExpert
We are one of the largest Public Practice Recruiters in Australia and New Zealand and have access to most of the clients and candidates on the market. We thrive on delivering the best quality candidates to accounting firms so that you have the right people on the bus to grow your firm.
Why You Should Work With Us:
Retained Executive Search Service with delivery on average within 4-8 weeks – or your money back

Full Money Back Guarantee

up to 12 months as per our TOB's

Split payment options to help you with your cash flow as per our TOB's; and

Discounts for graduates, retainers, admin staff and referrals to your client base
Our Services:
Succession Planning – Finding a new Partner for your firm

Growing your Firm's Capabilities and Service Offerings with New/Additional Partners

Resourcing your Existing Teams with Juniors (Cadets/Grads) and Senior Accountants/Auditors

Contractors to help you through the busy period

Remote Staff
Contact Info
You can find out more about Nick Sinclair and his firm TOA Global from their website: https://theoutsourcedaccountant.com/
To find out more about RecruitmentExpert please go to www.recruitmentexpert.com.au or email