Part 2: Making Accounting Firms Great Again – A Talk About Leadership And Collaboration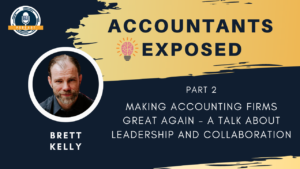 Brett Kelly, CEO of one of the fastest growing accounting firms in Australia, is back by popular demand, rated as one of the top podcasts we recorded, we're glad to have him back for a meaningful conversation that will have you hooked and wanting more. 
Sit back and watch as we present our first ever video podcast where Brett opens up about his plans, ideas and worthwhile sentiments about the accounting industry.
His Covid response and what has been happening for the past 2 years in the industry and how Kelly Partners has proven that his business is recession and pandemic proof

How to take care of your people with and without a pandemic

The secret to good teamwork and great leadership

His take on discrimination – ageism, sexism and homophobia

Flexibility vs. keeping it status quo

Prediction for the next 12 months

Secret sauce to Kelly Partners fast growth – their firm structure and how they compare to the rest of the industry

Bottom up vs. top down leadership

Organic growth of firms and acquisitions

Managing multiple partners and equity

What you need to do when you take over a firm

His new 10-year plan
"I said to investors, "I genuinely believe this is a recession proof business", it's very well structured and I took the pandemic as an opportunity to prove the strength and fitness of the business and our people, and prove the business was pandemic proof."
Show Notes:
Brett Kelly is the CEO of one of the largest accounting firms in Australia, they are BRW Top 25 largest accounting firms in Australia with over 40 Directors and over 200 staff. Brett Kelly has more than twenty years commercial and professional accountancy experience. He specialises in assisting individuals and families who own private businesses.
Brett founded Kelly+Partners Chartered Accountants in 2006 and over the past 14 years has grown the business to become the largest private business specialist accounting network in the Greater Sydney area. In June 2017, Kelly+Partners Group Holdings Limited listed on the ASX.
Books written by Brett Kelly
We are one of the largest Public Practice Recruiters in Australia and New Zealand and have access to most of the clients and candidates on the market. We thrive on delivering the best quality candidates to accounting firms so that you have the right people on the bus to grow your firm.
Why You Should Work With Us:
Retained Executive Search Service with delivery on average within 4-8 weeks – or your money back

Full Money Back Guarantee up to 12 months as per our TOB's

Split payment options to help you with your cash flow as per our TOB's; and

Discounts for graduates, retainers, admin staff and referrals to your client base
Succession Planning – Finding a new Partner for your firm

Growing your Firm's Capabilities and Service Offerings with New/Additional Partners

Resourcing your Existing Teams with Juniors (Cadets/Grads) and Senior Accountants/Auditors

Contractors to help you through the busy period
Contact Info
You can find out more about Brett Kelly and his firm Kelly+Partners from their website: www.kellypartners.com.au
To find out more about Recruitment Expert please go to www.recruitmentexpert.com.au or email
Michael Edelstein: michael@recruitmentexpert.com.au