Marketing for Accounting Firms – Part 2 – Strategies & Tactics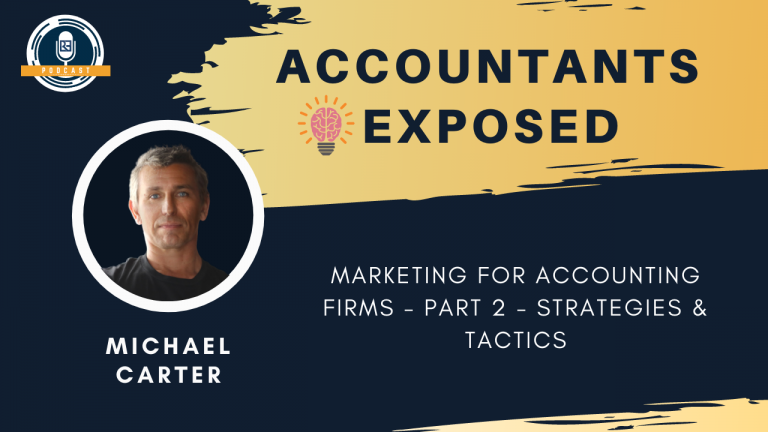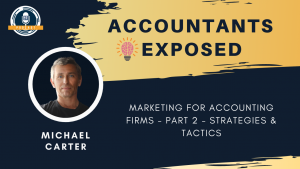 On this second part of our podcast with MC Carter, he provides us with a more in-depth understanding of strategies and tactics with regards to marketing and scaling advisory services, his perspective on leadership, and what and how to offer additional help to your clients.
We catch up with Michael Carter, Founder and CEO of Practice Paradox as he shares:
Exploring the reasons for choosing to do advisory vs pure compliance in your practice

Most effective marketing strategies for accounting firms

How Practice Paradox can create and implement your marketing strategy and ROI on that

How to value price your services

Importance of SEO for your business and how to go about improving your client attraction strategy

Marketing automation tactics and tech stack 

Do you need a marketing person in house?
Profile
Michael Carter is the founder and director of Practice Paradox. He loves innovation, creating systems, solving business problems and strategizing. His focus is teaching Accounting firms proper marketing and fruitful communication, helping them bring about a thriving life for their clients.
He successfully managed multiple businesses in the past and to him – business is a game with players, rules, strategies and ways to win and ways to lose. And it's a game he enjoys playing!
Some quick facts:
A speaker in MYOB Partner Connect 2019 and Accounting Business Expo 2020.

Founder of Spinalsensa, and Co-Founder of Business Fitness

Has a degree in Industrial Design (Product Design) and an MBA in Entrepreneurship and New Venture Management
Show Notes
We are one of the largest Public Practice Recruiters in Australia and New Zealand and have access to most of the clients and candidates on the market. We thrive on delivering the best quality candidates to accounting firms so that you have the right people on the bus to grow your firm.
Why You Should Work With Us:
Retained Executive Search Service with delivery on average within 4-8 weeks – or your money back

Full Money Back Guarantee up to 12 months as per our TOB's

Split payment options to help you with your cash flow as per our TOB's; and

Discounts for graduates, retainers, admin staff and referrals to your client base
Succession Planning – Finding a new Partner for your firm

Growing your Firm's Capabilities and Service Offerings with New/Additional Partners

Resourcing your Existing Teams with Juniors (Cadets/Grads) and Senior Accountants/Auditors

Contractors to help you through the busy period

Remote Staff
Contact Info
You can find out more about Michael Carter and his firm Practice Paradox from their website: https://practiceparadox.com.au/
To find out more about RecruitmentExpert please go to  www.recruitmentexpert.com.au