How to Successfully Deliver Business Advisory to your Clients and 5x Your Fees – with Brad Eisenhuth and Aidan Parsons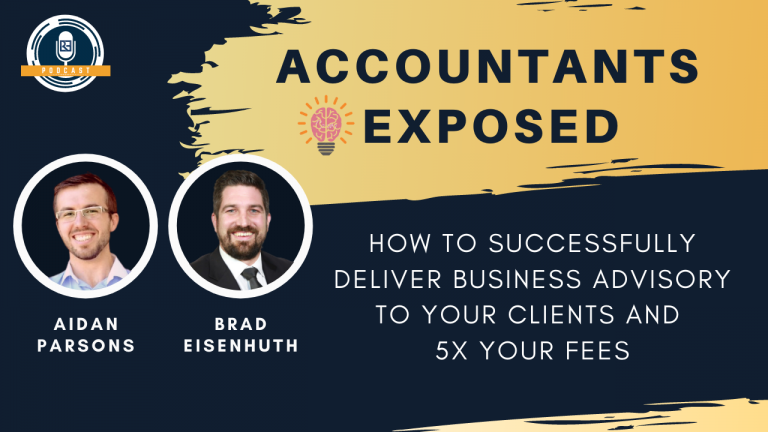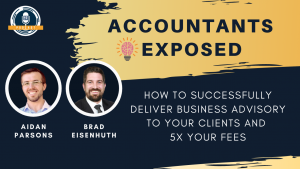 They have partnered with the Chartered Accountants Australia and New Zealand to provide leaders in public practice the opportunity to take part in a hands-on, highly practical program which can successfully transition your practice into a sustainable and impactful Business Advisory practice.
We catch up with Brad Eisenhuth and Aidan Parsons to discuss:
Why they felt accounting firms struggle to offer this much needed service to clients

Powerful insights on how other accounting firms engage and pitch the service to their clients.

What advisory means and how to deliver it and sell it

Some of the challenges practitioners face in implementing and delivering the offering

How it can 5x or even 10x your fees for a SME client you already have

Steps to take to build and successfully grow a successful advisory practice

And finally…how the program is structured and why it's different to anything else you've seen or done.
Profile
Brad Eisenhuth is the CEO of The Outperformer – they design, integrate and facilitate performance and change-focused programs for accounting and finance teams, many who are heavily impacted by structural change, technology advancements and the need to be 'relevant' in the way they work with their business and help business leaders to play a bigger game through people, capability and technology.
Aidan Parsons is an experienced businessman and the CEO of Keystone Executive Coaching with a demonstrated history of working with businesses in a variety of field and using his skills in sales, marketing and management to create a solid foundation for strong and profitable growth and financial security.
Show Notes
We are one of the largest Public Practice Recruiters in Australia and New Zealand and have access to most of the clients and candidates on the market. We thrive on delivering the best quality candidates to accounting firms so that you have the right people on the bus to grow your firm.
Why You Should Work With Us:
Retained Executive Search Service with delivery on average within 4-8 weeks – or your money back

Full Money Back Guarantee up to 12 months as per our TOB's

Split payment options to help you with your cash flow as per our TOB's; and

Discounts for graduates, retainers, admin staff and referrals to your client base
Succession Planning – Finding a new Partner for your firm

Growing your Firm's Capabilities and Service Offerings with New/Additional Partners

Resourcing your Existing Teams with Juniors (Cadets/Grads) and Senior Accountants/Auditors

Contractors to help you through the busy period

Remote Staff
Contact Info
You can find out more about Brad Eisenhuth and his Company The Outperformer from their website: www.theoutperformer.co; as well as
Aidan Parsons and this Company The Keystone Executive from their website: www.keystoneexecutivecoaching.com
To find out more about RecruitmentExpert please go to www.recruitmentexpert.com.au or email: