Growing, learning and leading – a how to guide on marketing your practice & managing the people in a fast growing national firm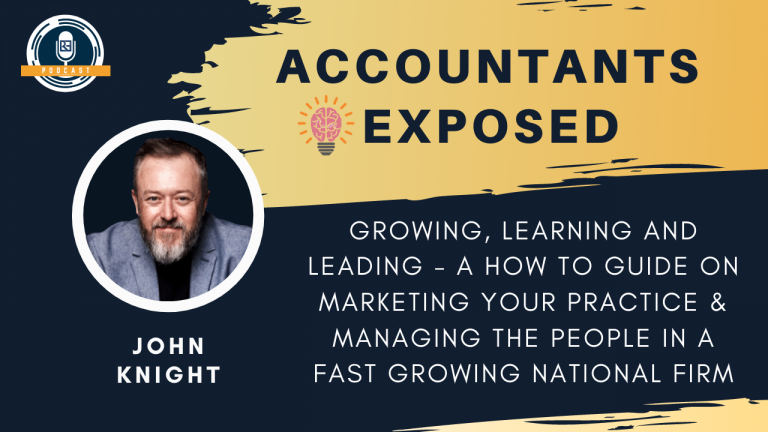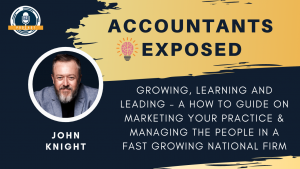 From the traditional trajectory of starting a cadetship in an Accounting firm close to his hometown to becoming a partner at an early age of 30 then founding and directing his own fast growing national practice with a very own unique model.
We catch up with John Knight, Founder and Director of BusinessDepot to discuss:
His advice for young accountants on the fastest path to partnership

Views on Commerce vs Practice

MBTI profiling of accountants, EQ vs IQ and how to manage different personalities in a firm through self awareness.

Recruitment process that's been refined over 7 years and the importance of developing your employer brand.

Pros and Cons of Pooling vs Pod team structures

How to know when it's time to move on from a Partnership




Benefits of a multi disciplinary model – digital marketing, legal,

accounting

What does leadership mean and importance of living the values of the business on a daily basis.

Most effective marketing tactics to grow brand awareness and attract clients

Growth Plans and tactics to stay focused and avoid burnout

Fragmentation, licensing arrangement and the future of the profession
Profile
John Knight is a seasoned accountant and business owner who became a Partner back in 2004 and has been in the accounting industry for more than 20 years. His experience and expertise in broader business strategy provides for a unique perspective and strategic planning skills to help his client improve their position. His objective – to empower small to medium businesses, and the people behind them to reach their potential.
John is an expert in a broad range of things and has built a reputation for being more than just an accountant.
Some quick facts:

Winner of Xero Accounting Partner of the Year 2017, Xero Platinum Partner 2017, Australian Accounting Awards Diversified Firm of the Year 2017, Cool Company Award Winner 2015, and Finalist Brisbane Young Entrepreneur Awards for the year 2014 and 2015

Nominated as Executive of the Year in 2016

Has a background in business valuation and is well known within the real estate industry.
Show Notes
We are one of the largest Public Practice Recruiters in Australia and New Zealand and have access to most of the clients and candidates on the market. We thrive on delivering the best quality candidates to accounting firms so that you have the right people on the bus to grow your firm.
Why You Should Work With Us:
Retained Executive Search Service with delivery on average within 4-8 weeks – or your money back

Full Money Back Guarantee up to 12 months as per our TOB's

Split payment options to help you with your cash flow as per our TOB's; and

Discounts for graduates, retainers, admin staff and referrals to your client base
Succession Planning – Finding a new Partner for your firm

Growing your Firm's Capabilities and Service Offerings with New/Additional Partners

Resourcing your Existing Teams with Juniors (Cadets/Grads) and Senior Accountants/Auditors

Contractors to help you through the busy period

Remote Staff
Contact Info
You can find out more about John Knight and his firm BusinessDepot from their website: www.businessdepot.com.au
To find out more about RecruitmentExpert please go to  www.recruitmentexpert.com.au