Designing Your Firm for Balance: Dealing with Overwhelm & Loving what You Do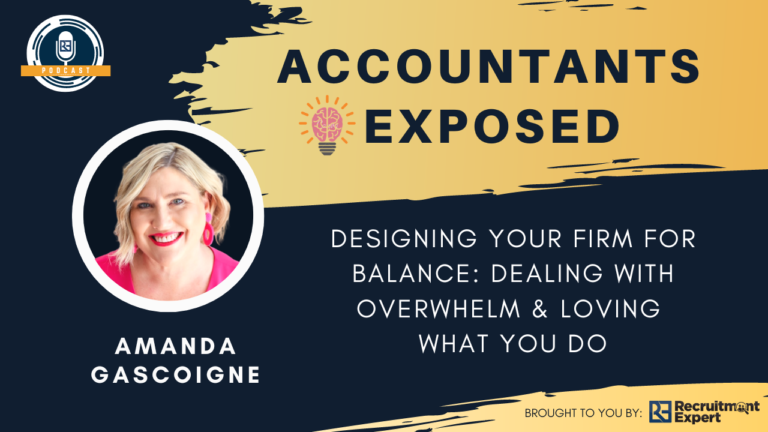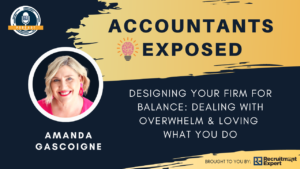 Our fantastic guest this week – Amanda Gascoigne with her own coaching business Amanda Gascoigne Consulting is a highly recommended consultant and is currently considered as one of the best practitioners who turned coach – and has many accolades to back it up! In this episode, she shares her knowledge, experience, and the struggles of balancing family life and the demands of public practice especially as a female in the male dominated accounting world.
Join us and do not miss this episode where Amanda tells us where, why and how she started her journey and her shift to consulting. We also discussed topics such as:
Changes in the accounting world, from being a male dominant industry to having more female accountants

Reasons for shifting from the traditional career path

Leaving a firm amicably and building your own

What made her sell her practice five years ago at a fairly young age and pursue coaching

The time she knew she wanted to do something different and how to keep up with a changing industry

Her overwhelm point and the key to proper discipline

How to run a business with a family member

Things she does not recommend in a multi partner firm and the ideal model you should use

The impact of accounting technology

Finding the right people for your accounting firm

What will happen next in the accounting industry with more remote workers and offshoring and what to watch out for
"I want people to actually love what they do"
Show Notes
Amanda Gascoigne started her career in public practice with one of the top firms in NSW and went on to open and sell her own successful practice. She is driven and passionate about what she does, and is a huge advocate of embracing changes and following your dreams no matter where you are in life. She is dedicated to helping small and solo accounting practice owners achieve their goals and help them reach financial freedom. Her motto – Own your journey NOW!
Quick facts:
Founder of her former practice Gascoigne Consulting Pty Ltd back in 1999

Voted Top 50 Women in Accounting multiple times

Currently an Advisor, Advocate and Consultant for Accounting Practices & Small Business with CAANZ & ATO
RecruitmentExpert
We are one of the largest Public Practice Recruiters in Australia and New Zealand and have access to most of the clients and candidates on the market. We thrive on delivering the best quality candidates to accounting firms so that you have the right people on the bus to grow your firm.
Why You Should Work With Us:
Retained Executive Search Service with delivery on average within 4-8 weeks – or your money back

Full Money Back Guarantee

up to 12 months as per our TOB's

Split payment options to help you with your cash flow as per our TOB's; and

Discounts for graduates, retainers, admin staff and referrals to your client base
Our Services:
Succession Planning – Finding a new Partner for your firm

Growing your Firm's Capabilities and Service Offerings with New/Additional Partners

Resourcing your Existing Teams with Juniors (Cadets/Grads) and Senior Accountants/Auditors

Contractors to help you through the busy period

Remote Staff
Contact Info
You can find out more about Amanda Gascoigne and her coaching services as well as about the Balanced Firm Community at Amanda Gascoigne Consulting from their website: www.amandagascoigne.com
To find out more about RecruitmentExpert please go to www.recruitmentexpert.com.au or email