Business Advisory: What You Think Is Advisory, Isn't What Your Clients Want!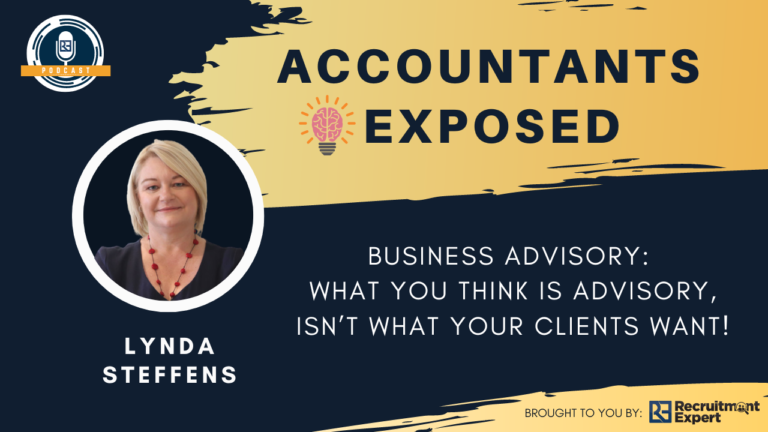 Struggling to figure out how to add more value to your clients? Retain your staff better? Increase profitability? Our guest today Lynda Steffens from The Small Business Project might just have the solution for you. No it's not tax returns or cash flows or any kind of fancy dashboards you usually expect when you hear advisory – but a revolutionary way of approaching and implementing advisory as a service in your business. 
If that's got you curious, join us as Lynda uses her experience from practice and coaching methodologies to explain the core of advisory and how you can successfully and systematically implement it in your practice. Some of the topics we discussed include:
Why advisory won't increase the value of your firm

The right approach to advisory and moving your firm forward

The prep work, process and timeframe of offering advisory

ROI and other benefits of doing advisory

The struggles with attracting and retaining young accountants

Falling out of love with the technical aspect of accounting

Emotional IQ leadership, the four pillars of framework and coaching methodology

What she would have done differently throughout her career
"Essentially at its core, advisory is anything you don't have to do."
Show Notes
Lynda Steffens fell in love with accounting when she was 14, which is earlier than most people we know. And now with 25 years of experience, she is still passionate in assisting clients achieve their goals and just in general enjoys helping fellow accountants especially the next-generation to do things differently and expand their skill set. Her motto: to always make a difference and embrace progress!
Quick facts:
Used to have her own firm,

LS Accountants

which she sold

The Director of

Intuitive Practice

alongside with her founded company

The Small Business Project
Author of the book "Accounting Revolution"

and wrote the article

"Embrace Change Now or Risk Losing Everything"

A qualified

SMJ Speaker
RecruitmentExpert
We are one of the largest Public Practice Recruiters in Australia and New Zealand and have access to most of the clients and candidates on the market. We thrive on delivering the best quality candidates to accounting firms so that you have the right people on the bus to grow your firm.
Why You Should Work With Us:
Retained Executive Search Service with delivery on average within 4-8 weeks – or your money back

Full Money Back Guarantee

up to 12 months as per our TOB's

Split payment options to help you with your cash flow as per our TOB's; and

Discounts for graduates, retainers, admin staff and referrals to your client base
Our Services:
Succession Planning – Finding a new Partner for your firm

Growing your Firm's Capabilities and Service Offerings with New/Additional Partners

Resourcing your Existing Teams with Juniors (Cadets/Grads) and Senior Accountants/Auditors

Contractors to help you through the busy period

Remote Staff
Contact Info
You can find out more about Lynda Steffens and her firm The Small Business Project from their website: https://lyndasteffens.com/the-small-business-project/
To find out more about RecruitmentExpert please go to www.recruitmentexpert.com.au or email