Best approach to selling and preparing your Accounting Firm for Sale – with Mark Emney and Daniel Jones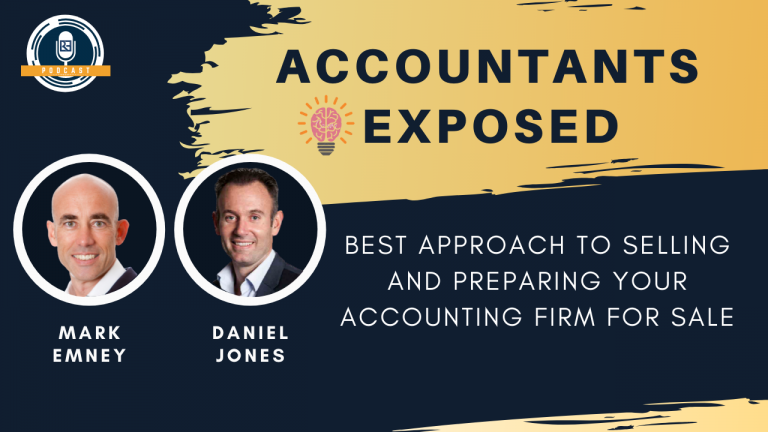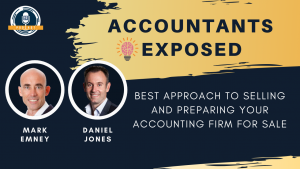 COVID has had a tremendous impact on accounting firm and practitioners over the last couple of months. Today we talk with the Directors of DMY – Mark Emney and Daniel Jones where we discuss:
Impact of COVID on firms and the level of M&A activity in the Accounting Firm space

How to prepare for a future sale and what you should do now – you'll be surprised how long and when you should start

What buyers are looking for How to maximise your valuations

What to watch out for and mistakes to avoid

The ideal mix of advisory vs compliance in your firm

Special tips for buying and selling during COVID times
Profiles
DMY who are the Leaders in Selling Accounting Practices across Australia.
Mark Emney comes with a rare mix of large corporate, consulting and entrepreneurial start-up experience where as a ex-PwC Partner he has guided organisations, large and small, around improving performance and boosting profitability and has been a senior executive in household names such as Wesfarmers and Bankwest to name a few.
Daniel Jones is an accountant that has a 20 year history working with accounting firms around the globe, and has advised on a large number of M&A transactions. He is a regular speaker at industry events across Australia and has been featured in the media for his insights on the accounting sector.
We are one of the largest Public Practice Recruiters in Australia and New Zealand and have access to most of the clients and candidates on the market. We thrive on delivering the best quality candidates to accounting firms so that you have the right people on the bus to grow your firm.
Why You Should Work With Us:
Retained Executive Search Service with delivery on average within 4-8 weeks – or your money back

Full Money Back Guarantee up to 12 months as per our TOB's

Split payment options to help you with your cash flow as per our TOB's; and

Discounts for graduates, retainers, admin staff and referrals to your client base
Succession Planning – Finding a new Partner for your firm

Growing your Firm's Capabilities and Service Offerings with New/Additional Partners

Resourcing your Existing Teams with Juniors (Cadets/Grads) and Senior Accountants/Auditors

Contractors to help you through the busy period
Contact Info
You can find out more about Daniel Jones and Mark Emney of DMY from their website: www.dmyassoc.com.au
To find out more about RecruitmentExpert please go to www.recruitmentexpert.com.au or email