Fundamental Challenges for Accounting Firms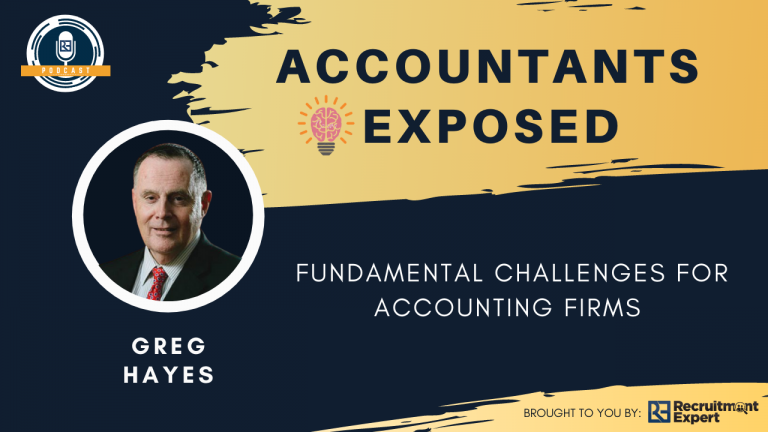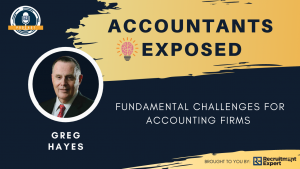 The ever enterprising Greg Hayes of Hayes Knight , a familiar face in the industry, leading one of the top mid-tier accounting firms in Australia, discusses the fundamental challenges facing the baby boomer accounting firms and what they need to do to adapt. 
Some of the things we cover include:
Fundamental changes & challenges for baby boomer practitioners        

Impact of technology and automation on junior accountants and selection for different skills        

New 'normal' i the post Covid world and remote working        

Being strategic – because turning up to work is no longer enough        

Why a Partner should never have more than 50% chargeable hours        

Relationship between growth and staff & client retention        

Mechanics of valuations for Accounting Firms        

Different structures for bringing in new partners        

CA vs CPA debate        

Challenges of transitioning from small sole practitioner to a national firm        
"We have a generation of accountants now who have never had to market, hunt and eat and kill to get their business" 

Profile
Greg Hayes is a highly skilled professional who has a wealth of experience in this industry. From running an ASX Listed business to successfully building his own national firm and being well known in both Australia and globally for his achievements – he brings incredible wisdom to every conversation. He is passionate, focused on his goals and what is possible. His belief – "Lateral and innovative thinking sometimes makes the difficult achievable!"
Some quick facts:
Entrepreneur who has built multiple successful businesses in the accounting and wealth industry

Former National Chairman of Small Business Centre of Excellence, CPA Australia, and of NSW Public Practice Committee, CPA Australia, Former member of Advisory Panel for the Board of Taxation, the Managing Director of ASX listed Easton Investments Limited, Director, Morison KSi International Asia Pacific

Author of

"A Practical Guide to Business Valuations for SMEs", "Practice Management for Professionals" Co-author of "STS in Practice, CPA Australia"

and

"CGT in Practice, CPA Australia"
RecruitmentExpert
We are one of the largest Public Practice Recruiters in Australia and New Zealand and have access to most of the clients and candidates on the market. We thrive on delivering the best quality candidates to accounting firms so that you have the right people on the bus to grow your firm.
Why You Should Work With Us:
Retained Executive Search Service with delivery on average within 4-8 weeks – or your money back

Full Money Back Guarantee up to 12 months as per our TOB's

Split payment options to help you with your cash flow as per our TOB's; and

Discounts for graduates, retainers, admin staff and referrals to your client base
Succession Planning – Finding a new Partner for your firm

Growing your Firm's Capabilities and Service Offerings with New/Additional Partners

Resourcing your Existing Teams with Juniors (Cadets/Grads) and Senior Accountants/Auditors

Contractors to help you through the busy period
Contact Info
You can find out more about Greg Hayes and his firm Hayes Knight from their website: https://www.hayesknight.com.au/
To find out more about Recruitment Expert please go to www.recruitmentexpert.com.au or email
Michael Edelstein: michael@recruitmentexpert.com.au